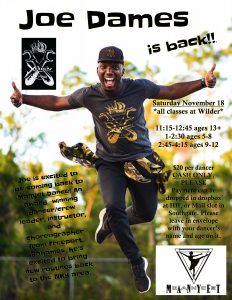 Saturday, November 18th
*all classes at Wilder*
Joe is excited to be coming back to Manyet Dance.  An award-winning dance/crew leader, instructor and choreographer from Freeport, Bahamas, he's excited to bring new routines back to the NKY area.
11:15am-12:45pm — ages 13+
1:00pm-2:30pm — ages 5-8
2:45pm-4:15pm — ages 9-12
$20 per dancer – CASH ONLY PLEASE
Payment can be dropped off in dropbox at Highland Heights or mail slot at Southgate. Please leave in an envelope with your dancer's name and age on it.