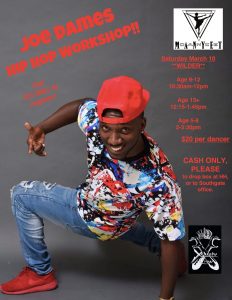 Saturday, March 10th
*all classes at Wilder*
Joe is excited to be coming back to Manyet Dance.  An award-winning dance/crew leader, instructor and choreographer from Freeport, Bahamas, he's excited to bring new routines back to the NKY area.
Call 859.781-0061 to register!
10:30am-12:00pm — ages 9-12
12:15pm-1:45pm — ages 13+
2:00pm-3:30pm — ages 5-8
$20 per dancer – CASH ONLY PLEASE
Payment can be dropped off in dropbox at Highland Heights or mail slot/office at Southgate. Please leave in an envelope with your dancer's name and age on it.