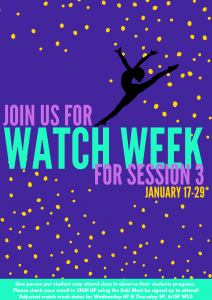 It's time again to come and see what your dancer has been learning since September!
As promised, January 17-January 29 is when our second set of watch weeks will take place. Please use the link below to sign up for ONE spot during your child's class time. Larger classes have been split across 2 dates where possible while smaller classes may only have one date option. Please review the sign up dates as soon as possible as there may only be one opportunity for you to watch your dancer.
A few reminders:
Only ONE watcher is permitted per dancer. No additional watchers, including siblings, will be permitted. This minimizes distractions and allows the watcher to focus on their student as well as allows for better social distancing.
Masks are required for watchers.
Please refrain from attending watch week if you feel ill. There is another watch week in April should you miss this one.
To sign up, please click here: Sign Up Genius-Winter Watch Week 2022. The access code has been emailed to your account email!