Class Times || Dance Attire || Fun Weeks || Fundraisers || Holidays || Parking
Payment Sessions || Portraits || "Ready-Set-Recital!" Bundle (costumes and fees) || Recital Dates
Recital Tickets || Registration Process || Severe Weather Policy || Watch Weeks || Web Site
Class Times
Younger students are to arrive no sooner than 5 minutes before class time, unless specific arrangements have been made with their teacher. We do not have the staff available to watch over these little ones prior to the start of class. Also, parents should arrive promptly to pick up students from class for this same reason.
Dance Attire
Dance shoes, tights and leotards can be purchased (at competitive prices). As we set up our new office space, please reach out via email (manyetdance@gmail.com) to schedule time to purchase dancewear.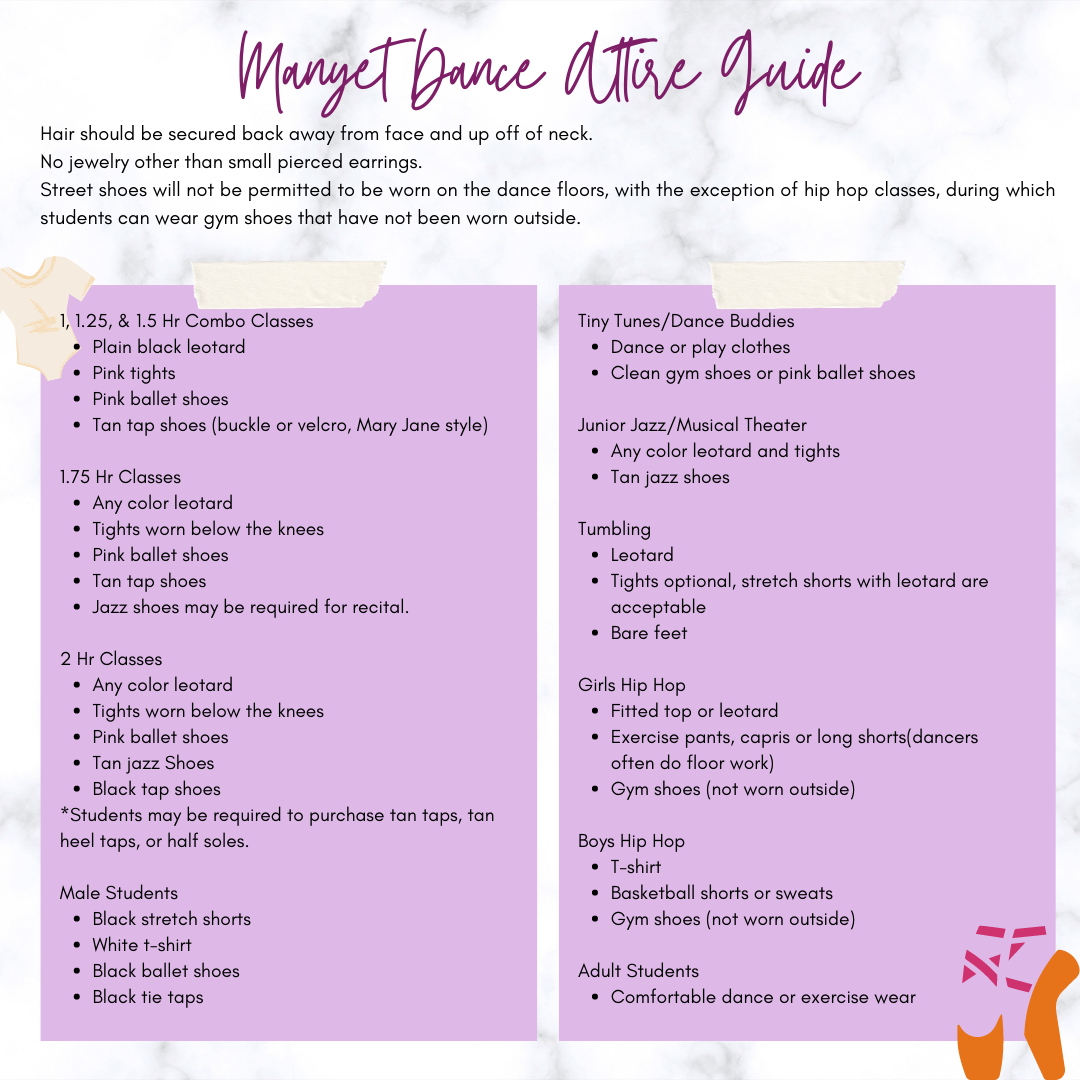 Fun Weeks
This is a break from the normal routine.
Tuesday, October 25th – Monday, October 31 – (all classes) Students may wear old recital costumes or any color of dancewear to this class if they wish. We incorporate fun and educational dance and coordination activities into these classes.
Wednesday, December 14th – Tuesday, December 20th – (all classes) This is our Christmas party time. More details will be in our December newsletter.
Monday, March 27th – Saturday, April 1st – (all classes) Manyet Spirit Week! Students should show their Manyet pride by dressing old costumes, Manyet dance wear or dance wear in the color purple.
For the younger classes, an additional Fun Week may be scheduled by individual teachers.
Fundraiser
Every year (around September) Manyet Dance holds a fundraiser to earn credits towards FREE RECITAL ITEMS in the Ready – Set – Recital! bundle. Student participation in this fundraiser is optional. Students can earn recital bundle credits for each pre-determined amount of merchandise sold. The credits will help to earn free recital items such as costumes, t-shirts and recital videos. This is especially helpful for families with more than one dancer or students taking multiple classes. Money should be collected at the time the order is taken. All orders must be paid for with one check, or money order, when the order is turned in. We will only accept checks from our dance families and any checks from our dance families should be made out to Manyet Dance.
Holidays
Thanksgiving Break

Wednesday, November 23rd, 2022 through Saturday, November 26th, 2022
Classes resume on Monday, November 28th, 2022

Winter Break

Wednesday, December 21st, 2022 through Tuesday, January 3rd, 2023
Classes resume on Wednesday, January 4th, 2023

Spring Break

Monday, April 3rd, 2023 through Saturday, April 8th, 2023
Classes resume on Monday, April 10th, 2023
Parking
Highland Heights – Please do not stop at the door to drop off. You may stop at the rear corner of the building or pull around and drop off on the other side at the front of the building.
Cold Spring – The 4 parking spots directly in front of our studio are the unofficial spots for the dance studio.  Please use these spots for quick drop offs and pick ups.  If you feel that you will be staying at the studio longer, please consider finding a spot out in the middle parking lot area.
Payment Sessions
First Session

Wednesday, September 7th through Tuesday, November 1st
Payment due by Thursday, September 1st
Late fee applied on Thursday, September 15th

Second Session

Wednesday, November 2nd through Saturday, January 14th
Payment due by Wednesday, November 2nd
Late fee applied on Wednesday, November 9th

Third Session

Monday, January 16th through Saturday, March 11th
Payment due by Monday, January 16th
Late fee applied on Monday, January 23rd

Fourth Session

Monday, March 13th through Recital (TBD, usually in May)
Session 4 may be slightly altered depending on recital dates
Payment due Monday, March 13th
Late fee applied on Monday, March 20th
All tuition bills for sessions 2, 3 and 4 will be emailed two weeks before the start of each session. Payments made after the due date will be considered late and will incur a $20 late fee charge.  Payments may be made online, over the phone or dropped off or mailed to the Cold Spring studio.  Please make note of the billing dates listed in case of a misplaced bill and to be prompt with payments.
There will be no refunds on registration fees or tuition payments.  Any student who chooses to discontinue any classes must notify the office 3 weeks prior to the start of the next session.  Any student who drops a class in the middle of a session is still responsible for the entire session's tuition.  There will be a $25 charge on all checks returned from the bank. Session payments must be made in full. We reserve the right to refuse class participation due to a delinquent account.  Makeup classes are offered as an option for missed dance classes, with the exception of specialty classes only offered once throughout the week.
For your convenience, we offer the option for you to pay online by credit or debit card by simply logging into your Manyet account and choosing which charges to pay.  If you would like to enroll in automatic payments, you can choose "yes" from the drop down menu under "recurring payments."
Family discounts are offered at 10% off of one class per child.
Portraits
Every year we make arrangements with a company that specializes in dance photography, to photograph our students. Full length portraits will be taken at our studios on two separate dates in April of 2023. Please sign up for an appointment time that is convenient for you, as soon as the sign-up website is released in March of 2023. Sign up for separate time slots for each costume change. Also, on the day of, please notify the photographer in advance if there will be costume changes. The dance studio usually receives a 5×7 complimentary portrait of each student photographed to be displayed in our waiting area.
"Ready-Set-Recital!" Bundle (costumes and fees)
All dance students are invited to perform in the annual recital. In order to simplify your life, we are once again combining some of your dancer's needs with your dancer's memories in our Ready – Set – Recital! bundle. If you choose to NOT be in our spring 2023 recital(s), you must notify the office by October 15th, 2022. If you do not opt out, your dancer will be measured for/ordered a costume and you will be responsible for the FULL COST of the costume and/or recital bundle. We order our recital costumes early to help ensure costumes arrive on time.
What does your Manyet Dance Ready – Set – Recital! bundle include?
one custom recital t-shirt
one recital video
recital tights
recital costume fees
What does this mean for your family?
Your dancer's recital t-shirt is already ordered.
Your recital video is already ordered.
Your dancer has the correct color, size, and style of recital tights already ordered.
And the BEST part???
The total cost for ALL included items is divided into 3 easy payments (see the list of dates below!).
This will help you budget accordingly to be prepared for the recital.
No last minutes trips and payments to get the correct recital tights!
By organizing this bundle for you, you are getting the best price on tights, t-shirts, and recital videos.
As always, we consciously try to keep costume costs to a minimum. If desired, see our fundraiser packet to help with these fees. Students with unpaid fees will not receive their costume until their account is up to date. Any student with an unpaid balance on rehearsal day will not participate in the rehearsal or the show.
Click here for the cost break down for each class type. This break down includes everything mentioned in the Ready – Set – Recital! bundle. This does not include your tuition cost or any dance shoes.
Due dates for "Ready – Set – Recital!" bundle payments coincide with tuition due dates and are as follows:
Payment 1 (50% of bundle fee) – Due November 2nd, 2022
Payment 2 (25% of bundle fee) – Due January 16th, 2023
Payment 3 (25% of bundle fee) – Due March 13th, 2023
If a student chooses to quit classes or not participate in the recital once they have been billed for the Ready – Set – Recital! bundle, they are still responsible for payment of the items that have already been ordered for them and will receive those items once payment has been received. There are no refunds on Ready – Set – Recital! bundle payments.
Click here for the Ready – Set – Recital! bundle FAQs.
Recital Dates
Every year we hold an end of the year annual recital. This enables the dancers to show off their abilities and talents in routines choreographed by their individual instructors. All dance students are invited to perform in the annual recital.
Our recital dates are usually held in early May. We are in the process of finalizing the contracts and will notify you with more details as soon as we have a confirmation.
Recital Tickets
Dance recital tickets are handled with a lottery pull. Because many students order several tickets we feel it necessary to fill orders with two ticket pulls. This method gives everyone a fair opportunity to receive their preferred seating first. In this way, we can assure that all of our parents get their choice of seating before all others.
The first draw is for a limited amount of tickets (which will be listed on the order form). Keep in mind that you may order as many tickets as you like in the second draw. Payment for all tickets ordered must accompany the order form. All seats are reserved. And, before fulfilling ticket orders, all outstanding balances in your account must be paid.
Recital ticket order forms will be distributed in March/April. Any student with unpaid balances will not receive tickets until balance is paid in full. Again, please keep up to date with your payments. Any student with an unpaid balance on rehearsal day will not participate in the rehearsal or the show.
Registration Process
All students wishing to enroll must complete our online registration. that will open in May each year. There is a yearly registration fee per student.
$15 for registrations submitted and paid before July 1st
$20 for registrations submitted and paid from July 1st – August 1st
$25 for registrations submitted and paid after August 1st
There are no refunds on registration fees or tuition payments.
Severe Weather Policy
In case of severe weather (heavy snow, ice or tornadic activity), an email will be sent no later than two hours prior to the start of class, directly to the email accounts of the classes being affected. You may also check the home page of the website, our Facebook page and our Instagram account for updates on any class cancellations.
When there are multiple classes for the same age and level, your child can make up a missed class during another regularly scheduled class time. Refer to the 2022-2023 class schedule to view the other available class times and then please call the office to confirm the make-up class for your child.
If the following classes are cancelled, the teacher will be responsible for scheduling a make-up day for the class: pointe, Dance Troupe, tumbling, hip hop and adult classes.
Watch Weeks
There will be 3 full watch weeks during our dance year.  Parents wishing to view the entire class are welcomed. At this time, one adult per student will be permitted to sit inside the classroom and view the class.  Please arrange babysitting for other siblings as they will not be permitted inside the classroom.  We do not make exceptions.  Your special performer deserves your undivided attention and other children can often be a distraction.  Classroom doors will be left open at the teacher's discretion. Recital procedures will be discussed during the last half hour of the April watch week.
WATCH WEEK 1
Highland Heights 2 & Cold Spring 2 — October 3rd through October 8th
Highland Heights 1 & Cold Spring 1 — October 10th through October 15th
WATCH WEEK 2  
Highland Heights 2 & Cold Spring 2 — January 16th through January 21
Highland Heights 1 & Cold Spring 1 — January 23rd through January 28th
WATCH WEEK 3
Highland Heights 2 & Cold Spring 2 — April 17th through April 22nd
Highland Heights 1 & Cold Spring 1 — April 24th through April 29th
Web Site
Student pictures (no names) may appear on our Web site. If you do not want your child's picture to appear on our web site or in advertising, please notify the office in writing.